So today I am happy to welcome the super sweet Beverley from A Reading Daydreamer to Book-A-Holic. Beverley is such a friendly girl by the way, you'll see and honestly, her blog is one of my favorites. But without further ado.....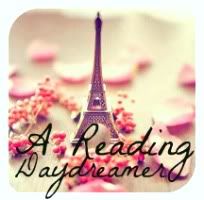 1) Hi Beverley! So to start off, can you tell us a little bit about yourself and your blog, A Reading Daydreamer, and why did you start it?
Hi bookaholics! I'm Beverley and I'm 15 years old. I'm just a typical teenager trying to balance schoolwork, exams, reading, blogging and free time with friends. I started my blog in January of this year, I thought it would be a great way to share my thoughts on all the books I read and it seemed like so much fun to 'meet' other people who share the same passion for reading as me! I try to blog regularly with reviews and other book-related things and I also would like to write more discussion posts in future!
2) What genres do you like to read the most and what are five of your favorite books?
I like to read most genres for YA, including contemporary and romance. I hope to read more dystopian fiction this summer and I'll be starting with Divergent! My most favourite book is Someone Else's Life, I absolutely LOVED that book – I haven't read such an amazing book in AGES! Skin Deep by Laura Jarratt follows closely, I adored that book so much too – Ryan is just GORGEOUS <3 I also really enjoyed Bunheads by Sophie Flack, it's such a magical, enchanting book, and The Look by Sophia Bennett is so beautiful and deals with fashion, modelling and cancer. Oh last but not least, Torn by Cat Clarke!
I used to do In My Mailbox but after the whole drama surrounding The Story Siren, I decided to take part in Showcase Sunday instead which is now my favourite meme. The only other one I participate at present is Waiting on Wednesday and I'm loving it already because it allows me to discover loads of upcoming releases!
4) Which author would you like the most to interview on your blog, and why?
Hmm… there are loads of authors I would like to interview but at the moment, I'm going to have to go for Sophie Flack, the author of Bunheads. I adored her book and I'd love to ask her more about the ballet world since she was once a ballet dancer as well! And of course, I would ask her for some writing tips!
5) If you could meet or even be best friends with any character from any book, who would it be and why?
I really want to meet Oliver from The Statistical Probability of Love at First Sight by Jennifer E. Smith, he sounds like a really charming guy and I wouldn't mind spending seven hours on a plane beside him ;) He was so witty and gentlemanly in the book and he just sounded amazing
6) What rating system do you use when reviewing a book, and why?
I use the simple five star system because I think it's really simple and gives my readers an idea of what I thought of the overall book. After my blog re-design, I kept the star system but now I use teacups instead!
7) Do you usually listen to music whilst reading?
No, I find it far too distracting! I tried it once or twice but I ended up humming along to the music and not remembering what I'd read :D

8) It's summer! So what are some summery, easy reads that you're willing to read soon or read and thought were amazing?
I read The Summer I Turned Pretty by Jenny Han last summer and ADORED it so this summer I'm looking forward to finishing the trilogy as they are great feel-good, summer reads! I also hope to read A Midsummer's Nightmare by Kody Keplinger and Anna and the French Kiss by Stephanie Perkins, I just want to catch up on some contemporary reads I've heard are good!
9) In your spare time, if you're are not reading, blogging or even studying ( although it's summer now! ) what do you usually like to do.. any hobbies?
Piano and violin are probably my main hobbies and they take up a LOT of time so if I'm not reading, blogging or doing schoolwork, I'll probably be practising! I also like playing badminton – it's the only sport I'm kind of good at. I also do ballet with a friend every week and I sometimes try and spend weekends with friends going shopping or to the cinema!
10) How do you see yourself in the future, like what would be your dream job?
My lifelong ambition is to be a vet so hopefully I'll be doing that! Plus teaching piano part-time and maybe continuing with my blog, who knows how it will turn out? And I'd like to maybe write a YA book to, being an author would be super fun!
11) If you ever wrote a book of your own someday, what do you think it would be about?
Hmm… it would probably be realistic fiction with a strong, kick-ass female protagonist and I might throw in a love triangle too – I love when two boys have to fight for a girl hehe! As for the storyline, I have absolutely no idea. I seem to be having writer's block because we have to think of a plan for a creative writing piece in school and I'm completely stuck for ideas.

Ah I can't wait too!
12) Are there any books that you're most looking forward to reading this year?

What's Left of Me by Kat Zhang is my most anticipated book of the year, the synopsis is A-MAZING and the cover is really pretty too, I don't think I can wait until September! I'm also looking forward to reading The Hunger Games books too – I'm so behind but I can't wait to see more of my beloved Peeta! And Divergent is another priority on my list too, everyone seems to love that book. As soon as I've got those out the way, I can look forward to the new releases!
13) What are you planning on achieving in your blog this year, any improvements, additions, I mean we already saw the super cute new look of your blog :)
Aw, thank you – you're too sweet but I'm glad you like it! I'm hoping I'll keep on improving my reviewing style – I think I've developed more of a 'voice' since my return and I've said that I want to cut down on the length of my reviews but sometimes I just have too much to say! This summer, I'd like to review more consistently and try to post something every other day at least as I don't post frequently enough right now – I don't want to bore my readers!
14) And finally, what tips would you give to new bloggers?
I don't think I'm entitled to give anyone tips but here are some things I've learnt. Be yourself and people will appreciate you more for that! Put some personality into your posts as they make your blog much more friendly and fun and try to comment on other blogs. You can't expect people to comment on yours if you don't put in the effort to join in the blogging 'community'.
- Facebook or Twitter:

Facebook, although I've recently joined Twitter
- Books or E-books:

Books, definitely! I love the feel and smell of proper books :D
- Tea or Coffee:

Does green tea count?

- Cats or Dogs:

Dogs all the way!
- PlayStation or Wii:

Don't have either but I prefer the Wii!
- Riding a Horse or a Camel:

I'd love to ride a camel one day, that would be so much more awesome than riding a horse :D
Thank you so much Beverley for being here today!
Thank YOU for inviting me here, it's been a pleasure answering all your questions!

Thank you Beverley for answering my questions! I really enjoyed reading Bev's answers and I'll definitely have to check out some of the books she mentioned up there ;) So go check her out on her blog A Reading Daydreamer, now that you found more about her, I bet you'll like her blog :)
And hope you all are having an amazing day/night!
xoxo, Mariam